APRIL 2014 PRAYER REQUEST
Dear Border Buddies Supporters and Friends. WE NEED YOUR PRAYERS
1. The house Michael and Glenda currently rent will be going up for sale in the very near future. Can we buy it? Should we buy it? Please join us in prayer. Please pray to move on the heart of the owners in this situation.
2. The 1999 Red Dodge Ram is need of repair/updating/replacing. We are trying to find out from Dodge if it can be converted to diesel or not. Please pray, should we fix, can we fix, should we replace?
- – - – - – - –        BREAKING NEWS 2/5/14        - – - – - – - -
- Multi-Media creates advertising campaign using the banners and table settings created for Border Buddies.  Watch the video here , then hit back arrow to return to page Multi Media Services 30 Trade Shows
1/29/14 – Mike and Glenda are back in Honduras safe and sound. Their electricity was mistakenly cut off and everything in the refrigerator and freezer was lost.
ANNUAL BORDER BUDDIES "Bring-A-Buddy" LUNCHEON  was held JANUARY 11th, 2014
What a wonderful time we had with 191 guests present, which set a new record! We were so blessed by each and every one of you and greatly encouraged – we hope you were, too.
CHECK OUT THE THREE PART STORY OF OUR VERY FIRST MEDICAL TEAM
I (Mark Erway) finally got Mike's write-ups posted. We had been praying since July of 2004 for medical teams and the Lord blessed Tegucigalpa with a wonderful group of doctors, nurses and assistants.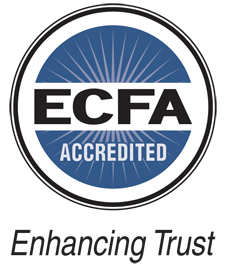 We are extremely pleased to announce that as of October 9, 2012, Border Buddies Ministries, Inc. has received approval and accreditation from ECFA – Evangelical Council on Financial Accountability.  This means that we meet the very stringent standards of accounting practice and financial accountability as set by ECFA. To learn more about the standards please visit www.ecfa.org.
YOU CAN ALSO WATCH THIS SHORT VIDEO - ECFA VIDEO
Michael and Glenda Miller are Christian missionaries who live and work in Tegucigalpa, Honduras. They founded Border Buddies Ministries in February 2004, then incorporated it as a non profit in New York State in April 2005, and finally 501(C)(3) status was granted inDecember 2006.
The vision that is foundational to this ministry is simply stated as, "INCREASE THE POSSIBILITIES, DECREASE PRISONERS". It resulted from watching young people lose heart, join gangs to make quick money, and wreck their lives. It simply broke Mike and Glenda's hearts.
The foundational scripture for Border Buddies is this: "To man belong the plans of the heart, but from the Lord comes the reply of the tongue. All a man's ways seem innocent to him, but motives are weighed by the Lord. Commit to the Lord whatever you do, and your plans will succeed." Proverbs 16:1-3
The results are a two pronged approach. The first has to do with communities themselves. Increase the possibilities for more choices for a better future.  That involves working with youth through youth groups, bible study, mentoring, and getting a good education through school sponsorship/scholarship funding. All of this brings hope and provides a better way to deal with life and all its troubles. This also involves bringing Short-Term Mission Teams from the States to help refurbish, rehabilitate and expand existing schools and their programs. And working with adults, teaching life skills, job skills, funding and starting micro-businesses, sharing the Word through bible study and interaction with the Short-Term mission teams. Our prayer is that this work will keep young men and women from becoming prisoners.
The second has to do with how to decrease prisoners. Mike and Glenda visit numerous prisons on a regular basis, share God's word, establish Bible studies, teach and fund micro-business possibilities, and offer TATTOO REMOVAL with a state-of-the-art laser tattoo removal machine. They support prisoners after release and help them get back on their feet. The ultimate part of the vision is to have Border Buddies Farm, where a structured environment of education and repatterning on a self-sustaining farm would provide a four year rehabilitation program with a high success rate. Our prayer is that young men and women would no longer return to prison and that they would now become productive members of their communities.