Saturday, January 6th, 2018
by Mark Erway
BIG ANNOUNCEMENT – SPECIAL GUEST COMING!!!
Señor Freddy Duarte, the founder and director of the 21st of October Institute (where our teams have been working the last three years) will be here with us for two weeks in January to address our luncheon and speak in as many churches as possible and promote the good work that Border Buddies is doing in Honduras. We are excited about the possibilities this will afford, and pleased that he is so thankful for our relationship with him and the school.
As we close out the year 2017, which is our 13th year of ministry in Honduras, we look forward to our 14th, it is always exciting to host the "Bring a Buddy" Luncheon. At the 2017 luncheon we were just shy of 200 attendees this year, with 184 people there. Our caterer, Ali Bennett, did an outstanding job (she has been with us since the very first luncheon in January 2006). In addition, our attendance consisted of mission team members representing almost all of the teams, several pastors, and representation from well over a dozen churches. We did our best to celebrate "changed lives".
A big 'thank you' to every person who attended. Each of you is important to us and to the ministry. Each of you, whose lives have been changed, are also changing more lives than you can imagine.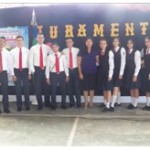 Mission House – Back in 2015 we were presented with the possibility of purchasing a house in a very safe location in Tegucigalpa. It was larger, had more dorm rooms, larger kitchen, larger communal eating area and even had a larger patio area. It was an answer to prayer, and we trusted God to help with the $300,000 purchase price. A couple of stock donations and some pledges made the dream become reality.
2017 House update: We are two years into the new house and it has proven to be an excellent facility for our teams as we reach out in faithful ministry to Tegucigalpa and beyond. We often invite our youth groups to the house for special occasions and celebrations. Ben Holton, our newest missionary staff, lives in the house during the year. While much has been paid on it we still owe nearly $200,000 and have monthly payments of $2500. If you can help us with these payments please donate to the house, you can also click on this button which will designate your gift to the house fund:
In 2015 we expressed the need for a full-sized 18 passenger van. Teams are getting larger. The Youth Group is now averaging at least 24 youth, and they don't fit in the little white Toyota van, but they would easily fit in an 18 passenger van. In the spring of 2017 we purchased an 18 passenger Ford Transit van, with plenty of head and leg room, overhead storage and a good strong Diesel engine. Most of our teams experienced the new van and were extremely pleased with the upgrade. Again, it was stock donations and pledges that made it possible. You can help us with this new expense – it cost $42,000, by donating whatever amount you can. Use the button below and it will designate your gift to the van.
2017 was another incredible year for the ministry and we are THANKFUL for the way God has moved in people's lives. We look forward to the 2018 luncheon and are praying for a couple of VERY special guests to be there with us. 
"Changed lives" continues to be our focus. 
---