Team #24 – Part 3 – Victory Highway Wesleyan
August 2013
By: Michael J. Miller, Jr.
You would think that after the first two reports this team was done with their work. The team worked on making rebar cages as seen in the top photo. Also Dale with his expertise in wiring installed the panel box and riser to provide power for the kitchen and two classrooms. While this was going on, the team primed all the exterior walls for the existing buildings. They also started on painting the top color for the school. Paint always gives that feeling of being clean, fresh and new. This school is shaping up quickly. Lord willing with two more teams we will be opening our 4th kitchen and serving 170 more children hot meals. The 4th photo and on, shows friendships, trust, love, and Jesus. Ephesians 2:9-10 "not by works, so that no one can boast. For we are God's workmanship, created in Christ Jesus to do good works, which God prepared in advance for us to do." The Holy Spirit motivates us for service and every child of God is called for service as it is said in Ephesians.
Salvation is an act of faith.
Sanctification is a walk of faith.
Service is the ability to do what God called you to do and become.
Each team member is doing exactly what God has called them to do.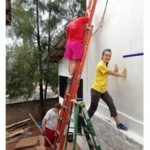 The painting had its challenges for the team members. They worked on angles that ladders don't like as seen in the  photo above. Emily was doing her best in trying to keep a level line on the wall. The school asked if they could have the school painted in two colors. They went with a chocolate color for the bottom half and a coral color for the top half.
The last to photos are a favorite of mine. Emily is with Amy who is 3 years old but has a personality. Amy always comes and visits me and my boys on Thursdays. She sits with us in a circle and I will ask her questions. I always ask, are you in the group? Si. Are you committed to study the word of God with us? Si. Are you going to sell food with us on Saturday? Si. While asking this, her grandmother is always nearby smiling as Amy smiles and dangles her feet off the chair. I pray that someday Amy will be a part of our youth group and hopefully remember these days. She has been a blessing to all the teams with her beauty. Amy is in the middle photo playing. Playing is huge part of the ministry. Why, because most of our children her don't have a mom or dad that is willing to toss the ball around, play hop scotch, draw or just spend time with them. So when a team comes it is a huge opportunity for the children to be able to PLAY!