2017 ANNUAL 'BRING-A-BUDDY" LUNCHEON
by Mark Erway, VP
Unity and Maturity in the Body of Christ – Ephesians 4:1-6
4 As a prisoner for the Lord, then, I urge you to live a life worthy of the calling you have received. 2 Be completely humble and gentle; be patient, bearing with one another in love. 3 Make every effort to keep the unity of the Spirit through the bond of peace. 4 There is one body and one Spirit, just as you were called to one hope when you were called; 5 one Lord, one faith, one baptism; 6 one God and Father of all, who is over all and through all and in all.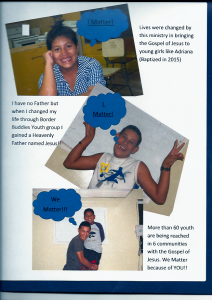 A huge thank you to all who made our annual luncheon a huge success again. Of the 180 reservations we had over 160 enthusiastic people in attendance. Michael again asked, 'Who are you?" and "Why are you here?". It wasn't meant to intimidate but to help each of us take stock, look more deeply at our motives, and catch a fresh vision of what it means to be a disciple of Jesus Christ.
We heard from Michael as he shared some of the many highlights of 2016 from the six construction teams and the medical team. We've nearly completed the four new room addition at 21st of October Institute, and the school's principal, Director Fredi, has asked Mike to use one of those rooms for Border Buddies purposes, such as storage for items needed for programs, plus as an office for working with youth. There has been a major transformation at that school over the past two years, with many of the teachers' hearts being touched, and especially Director Fredi, who joins the teams each morning as they pray before work. Each team got to do special ministry to the squatters' village near Comayagua while there and received a lot of help from the Boy's Youth Group to pull it off. Michael broke it down into six "operations" : (1) Operating Clothing – handed clothing out to about 500 people. (2) Operation Shoes/Sandals – handed out some 600 pair of shoes, sneakers, flip-flops and sandals, but unfortunately leaving about 300 more in line. (3) Operation Water Filter – handed out 100 water filters. (4) and (5) Operation Fruit Tree saw a total of 549 fruit trees of all kinds planted for the future harvest. (6) Operation Seed was 75 pounds of corn seed that produced a huge harvest where all other corn seed had withered and died before producing anything. Much of the fruit and corn seed was purchased from money tithed by the Boys' Youth Group.
Michael created a master lesson plan called "I Matter" that he used to instruct and inspire the young men and women in the youth groups in 2016 as well as adults in various settings. Many young lives were touched as we watch the youth groups continue to grow in size and at more locations around the city. (see attached folder cover)
Glenda spoke as passionately as ever about the 260+ children currently being sponsored and what a difference it means for them. We graduated 26 children from high school this year, and among them was the first child to have been sponsored from 1st grade all the way through 12th!! We have many more families waiting and praying for their children to receive a scholarship, which covers their tuition, uniforms and schools supplies for the year.
Brad Hinman, our public relations director, very honestly presented the needs and hopes that our ministry is praying about – continued donations to cover the mission house payments; the immediate need for an 18 passenger van to replace the old worn out Toyota Van; donations for bibles for our boy's and girl's youth group members; donations to purchase more water filters; and to have 300+ students supported by scholarships. (see attached fact sheet)
VP Mark Erway introduced past and present mission team members and thanked them for the dedication, hard work and sacrifice. Bruce Williams, our Financial Specialist presented a short lesson on Donating Stock and its benefits (see attached stock donation sheets)
And our caterer, Ali B., rose to the challenge to give us a delicioius Hispanic flavored meal, complete with Tres Leches (three milk) cupcakes. Thank you!!!!!!!
THANK YOU to everyone who made the day a success.
THANK YOU to the Border Buddies Barbarians who work behind the scenes, who came early and stayed late and helped make it all happen.
THANK YOU to Gayle Oldenbusch for the video, and for setting up and running the A/V equipment.
THANK YOU! YOU MATTER!