Comayagua Project: "Squatters Community"
by Michael J. Miller, Jr.
What an amazing year 2016 has been for the people of Comayagua and the squatters' community. Soon we will be calling it by a name instead of squatters' community. One reason being is that the people have organized themselves and hired a lawyer who is fighting their case in stating that the land was free and had no landowner and if some of the land was owned it was given up for free taking. Right or wrong they are working together with their lawyer to obtain legal documents stating they are land owners. I can imagine one day driving in this community seeing streets light lit and electricity in the home, running water and sewer lines instead of dug holes for outhouses.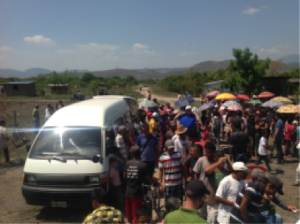 This year we knew we wanted to make a huge impact on the people and help them for a long lasting time. In April we hosted the Elmira College Girls and they helped us out with Operation Clothing. They handed out 16 suitcases filled with clothing and they were able to fit over 300 people with one outfit of clothing. In May we hosted our Pennsylvania UMC Team and this team went beyond the point of Victory! They handed out 600 pairs of shoes and sneakers that Al Erickson collected and sorted at his house. Thank you Al and the team, for all your hard work in organizing the shoes and sneakers by size and handing them out.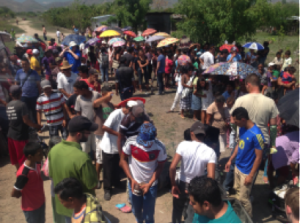 In these photos you can see the amount of people that came out. We ran out of shoes and sneakers and still had another 250 or more people waiting for help. This means we had over 800 people waiting in the 40c heat for a donation. There is a need.
In June we hosted our first Victory Team. With the help of Brad and Janet Hinman and the entire team they had Operation Water Filter. They like the May team fund raised for water filters and were able to supply us with more than 200 water filters. This means during the 2 years of providing water filters more than ¾ of the families in this community have clean water to drink!
In July and the first of two August Teams they had Operation Fruit Tree. In the bottom left photo is Glenda purchasing fruit trees. We purchased Mango, Orange, Tamarinds, and many other styles of fruit trees. We planted at least 3-4 trees at each home. The idea is to supply fruit to eat and fruit to sell at the market to gain money to purchase other necessities. We also purchased these trees from the Zambrano School that teaches farming and agriculture. All the money goes back into their school to purchase supplies to teach the students.
We planted 328 fruit trees from special donations. With our last August team from Victory Highway Church they had Operation Seed. This was a huge blessing because of the severe drought the people faced and they lost all their corn crops. So when the team arrived with seeds it was the perfect timing.
The October Medical team witnessed how big the crops were and how close they were to Harvest. God orchestrated everything in His time! Thank you BBM Supporters!!!