September 2017 – Comayagua
Can you imagine teaching grades 1-6 in this one room school? During the days when my Grandmother Miller was alive she told us stories about going to school in Canton, NY, but in a one room schoolhouse. This is like it but the conditions are much worse as you can see. One day we were visiting Comayagua's squatter community to check in on some of the people and the Lord led me to stop at the school and we listened and watched from the distance on a Friday morning. We were amazed to see 30 plus children in this small classroom trying to receive an education. We went and spoke to the teacher who informed us that they have the paperwork almost complete and sealed by the government to claim the land for the school and that they can start building. So we took notes and came back two weeks later to bless them with donations to help their school.
We donated school supplies from notebooks, pencils, pens, markers, compasses, tape, and so much more so the children can study with more than one notebook and a half pencil. This is what broke our heart. We made sure the school had clean water for all the students by donating a water filter for them to use.
Glenda handed out coloring books and crayons to all the children who came and left 20 more for the children who didn't come to class. The teacher told us many time the children don't come every day because they don't have material, or school supplies to teach or learn with so the students get down and don't show up.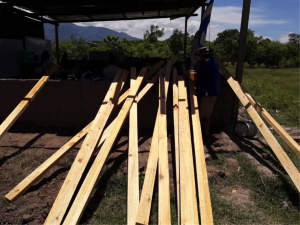 We showed up with 36 pieces of 2x4x14 lumber with steel roofing to help fix and finish the school roof. This will keep the sun and rain off the students' heads. Parents came out to help unload the truck and others brought hammers, saws, and other tools to get to work.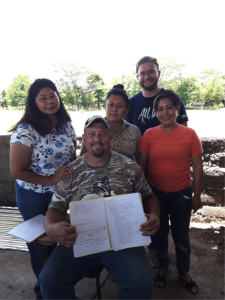 We ended the day with a detailed list of all the materials donated by BBM and all of you supporting this ministry. The two teachers know that all of you back home deserve a huge hug as the one on the right who is the Principal and teacher of this school acknowledged. These documents are sealed and are on file. God is so good!!
Thank you for supporting our GENERAL FUND to make this happen. Please consider donating to the general fund and so we can continue to do God's work in these rural places that so desperately need our help. My vision is to see paved roads and electricity installed in this community and on day this school having 6 classrooms and running grades 1-6 in the morning and 7-12 in the afternoon. Pray for this community.