What we do in between teams:
Youth Activities, Sponsorship, and Comayagua Ministries
By Michael Miller, Jr.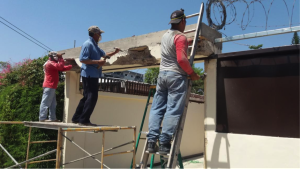 Every one always wants to know what we do in between teams. It is easy to say we continue the work on the school, which we do (as seen in other photos in this report). But this photo is about the front gate on the mission house. When we purchased our new 18 passenger bus we knew in order for it to fit inside the garage we needed to raise up the gate. So in the photo is a beam we poured the day before with chemicals to harden the concrete faster. Then we had to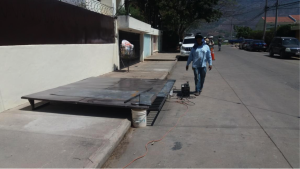 hand chisel out the beam below.
Miguel our welder was adding an extension to our gate while the old beam is getting knocked out.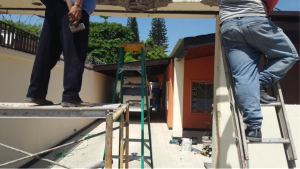 In mean time Ben and I were cutting a section of our garage roof and this is the finished product which is above and behind the old bus. What a couple of busy days.
Our August team helped us move the project much further by building wire cages and helping Ben and I form the big beams that went around the perimeter of the building and over all the interior walls. As seen in below photo.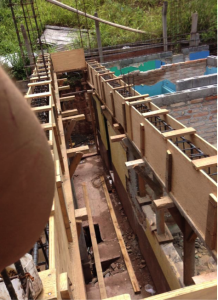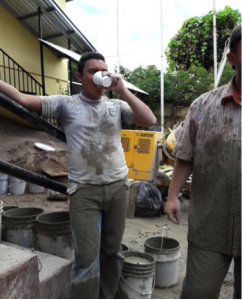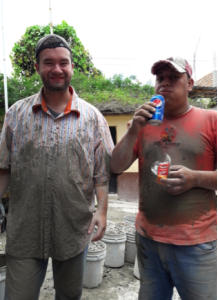 Now we had to finish forming beams just like you see in the photo after the team left. Plus we had to pour 183 bags of cement mixed by our mixer and hauled in buckets and poured into the beams. It was over 10 tons of material mixed and moved.
This was part of our crew that helped me get this poured in 2 days. The best I could do is feed them some good fried chicken!!!!!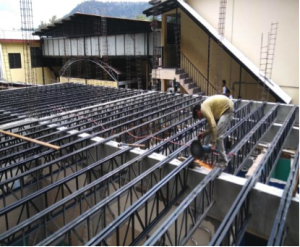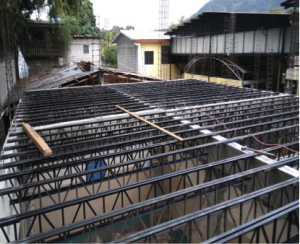 Oh, yes the joists were installed after the "BIG POUR". Next week we will be installing the steel flooring so next year the floor can be poured.
Tired yet??????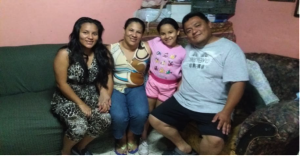 Well then there is my wife and Aracely. Who are out visiting our sponsored children and their families for prayer, counsel and anything else the child or family may need. Plus they are testing children to receive sponsorship's. As seen in photos below.